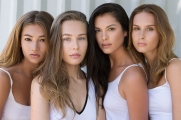 ---
---
MEMBERSHIP
Pro
---
MENTOR
£25.00
---
SKILL SET
PHOTOGRAPHY
RETOUCHING
FASHION
BEAUTY
STYLING
COMMERCIAL
EDITORIAL
LIGHTING
STUDIO
PHOTOGRAPHER
CREATIVE
ART-DIRECTION
STYLE
EDITING
---
ABOUT ME
A creative photographer specialising in fashion, beauty and commercial photography in London. Internationally published and award winning images and editorials and an accomplished commercial portfolio, with a client base including a number of well known brands ...
Read More
---
VIEWS 67442 LIKES 655
Helen Leonard
24/08/2017
Photographer, Makeup Artist, Hair Stylist
I first work with Dawn Marie just over 2 years ago and I am continuously flawed by the amazing images she manages to capture. She is a lovely person and thouroughly professional, which makes every project with her fun and smooth running. I have worked with a lot of photographers and Dawn Marie is definitely in my top three list of photographers if not no.1 . Can't recommend highly enough.
---
Richard Eytle
17/07/2017
JoLi ToBe Fashion - We worked with Dawn Marie on our first photoshoot. Not only were we delighted with the results of the shoot, Dawn Marie was a thorough professional from start to finish, from story boarding our ideas, meeting to review the location and wardrobe, through to creating a relaxed and professional environment for the shoot itself. Thanks DM - we'll definitely be doing it again!
---