SIGN THE PETITION TO SAY NO TO UNPAID WORK.

I WILL NOT POST OR APPLY TO UNPAID WORK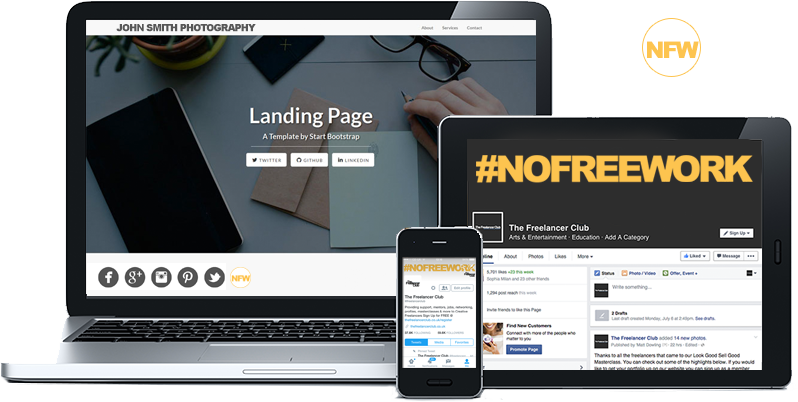 INCLUDED IN THE NOFREEWORK CERTIFICATE PACK

WEBSITE ICONS

THE CODE OF CONDUCT

SOCIAL MEDIA BANNERS
BY ADDING THE ICON TO YOUR SITE OR BANNER TO YOUR SOCIAL MEDIA, YOU ARE JOINING 100s OF BRANDS AND EMPLOYERS WHO BACK THE #NOFREEWORK CAMPAIGN. THIS ICON REPRESENTS A GROUP OF FREELANCERS, BRANDS AND EMPLOYERS WHO BELIEVE IN FAIR PAY FOR SERVICES.
CODE OF CONDUCT
Definition: Unpaid work
Unpaid work is any scenario where a business exploits an individual for commercial gain by not paying for labour or services that have been provided by that individual.
Unpaid work can have a damaging effect on the relationship between freelancers and their clients. It creates an environment where freelancers suspect their clients of trying to take advantage of them, rather than a positive working relationship.
NAMES WHO'VE SIGNED
Tim Horne
"I'm genuinely worried for my future and my family's future. As a photographer of over 10 years, the last 3 have forced me to lower my rates by more than half to compete with unpaid work. I'm not against competition, far from it, this drives me on however when photographers work for free they are taken away a paid job from the community. I fully support the freelancer club and their campaign."
PAUL BUTTERWORTH
"Experienced actor wishing to support fellow actors (especially young/inexperienced) actors from being asked to work for free on projects with a commercial value [I fully support actors making their own projects and collaborating on short films/sharing skills on each others projects]."
Gary
"I value my time, so should companies that approach me."
Jane Bellis
"I have been a hair and makeup artist for over 20 years and am STILL getting requests for unpaid work! I feel that those in the creative industries constantly have their work undervalued and it needs to stop."
Rachel Cohen
"Fed up with being expected to work for free"
Nick Gregan
"There is an errosion and devaluation of professional photographers skills and knowledge, digital cameras do a lot but... A skilled professional photographer has equipment, lights, knowledge and experience which are all gained through hard work not unpaid work."
Nic Calvert
"Keep getting asked to do free work - even by people who know I have to double-gig to cover rent and utilities."
Jacqui George
"I'm a freelance stage manager with 17 years experience in able to turn down unpaid work but I see many students who are offered and undertake unpaid work after graduating from vocational training."
James Robb
"As a freelancer I believe no-one should work for free, no-one should work for less than their worth, everyone deserves fair pay in return for their work and time. No matter if you are just starting as a freelancer or contracting in a large company, fair pay for fair work is not much to ask."
Lindsay Campbell
"Freelancing is real work. Time is money. People need to value creatives' work and time."
Sophie Fry
"As a freelancer so much thought, energy and time goes into creating an idea and to not be recognised for that work is just appalling. I feel like companies use us as slaves as they use the term 'industry experience' to their advantage. It's difficult getting into the industry without experience and companies are manipulating this. When our ideas earn them money and we were the brains behind it, we're the ones struggling to live. I 100% support #nofreework"
christina
"sick of exploitation"
Alexander Blair
"this unfair practice MUST stop..."
Vince Bevan
"Don't undermine your own industry. Take the free out of freelancing."
Paul McMullin
"I'm a photographer and regularly get asked to supply work for free."
anne milne
"We all need to stick together"
Milly McPhee
"It's not free to us I do a small amount just to get my portfolio up but don't like it"
Ng'endo Mukii
"I want to be a successful business and for people to respect the work that I create."
Paula ElisaGarcia
"Frela I am"
Dmitrij Vasilenko
"TIME TO STOP EXPLOITATION OF HARD WORKING CREATIVES"
Tanya Perdikou
"I'm not sure why I shouldn't get paid to do my job like everyone else? Just because I'm freelance..."
David Richards
"I'm a photographer"
Jo J
"Regularly get squeezed on rates!"
kate jangra
"My work is unique and i deserve to get paid properly for doing it..."
Tina Walsh
"Because I'm sick of being asked to work for peanuts and 'exposure'z"
Zeel Okoye
"Making people work for free should be classed as a crime"
dora pereira
"freelancers need to eat too"
Camille Romano
"No more unpaid work!"
Jimmy Ofisia
"#FreeWork is not #Work"
Melania Bertini
"Freelancers too need to eat!"
Carol Woof
"As a Script Supervisor, though working on various paid contracts, it is assumed and expected that I give several days work pre-contract which, in theory, would be taken in lieu once my contract commences - this is not feasible and never comes to fruition. On top of which I am expected to work on re-writes which are often issued mid-shoot, after long filming days & again, unpaid."
Rachella Sinclair
"The expectation that writers and other creatives should work for free undermines us all and drags talented professionals down to the level of beginners."
Mairead Preece
"I can't afford to live if I don't get paid"
Kayleigh Wood
"Often asked or expected to work for free which makes life incredibly difficult to earn a living as a designer"
Karl Lewis
"I have just read the article in the Guardian about how we lose out each year working for less or even nothing, and I have found this to be the case for me for the past 11 years now."
Edvinas Maciulis
"The reason is your answer to the question " Why you don't want to work for free?""
Elena Cristofanon
"As a freelancer I know how hard is to get paid for your hard work."
Jennifer G. Robinson
"Don't work for 'free'."
Clare Scott
"I'm a freelancer. With skill and value. Freelancers should be paid for their work. Simple."
Virginio Moutinho
"I'm usually asked to work for free or for miserable amounts of money!"
Lisa Kenney
"I am tired of clients asking for work with "little to no budget" and expecting me to pay bills on the back of exposure."
Vic Wilkshire
"My work has value and should be regarded as such. Too many people want freebies, but my landlord and the supermarket still want money for rent and food. Would you work for free?"
Karl Hennigan
"If you want free work do it yourself, otherwise pay professionals for their time."
Jack Knight
"I've been in the situation where I've felt that I had to work for free, wether that be for a company or for a friend, even though they have the money to pay me. The amount of time and effort that actually goes into creative work is completely undermined when you are unpaid. People need to understand that creative work is as important as other work they would happily pay for."
Eleanor Wemyss
"As a free-lance artist, over the years I have been offered so many opportunities to show either for free or I have to pay to apply. I have run workshops with diverse communities for free and after all this have been massively left out of pocket and struggling to support myself. In other countries, artists and arts educators are seen as providing a service so why not here. I have shown in exhibitions over here where the artists coming in from Europe rightly so are given an artists fee."
FAGBAMILA ADEJOLA OJONLA
"I desire value for every creativity!"
PAUL VOGELZANG
""Free Work" must stop, and we must value our creative economy. This economy is one of the most valuable exports we in US have. I value creativity, and working for free isn't the least bit creative, but destructive."
Tarantej Singh
"Although I am a full time web developer, I have taken a few freelance projects. Building quality website is an effort and I want to be paid for my effort. I hate it when I give them a demo and they keep telling me to work on a bit more without paying"
Thapelo Romeo Mosebo
"I believe that no freelancer must go to bed hungry while having a major company receives income."
Thapelo Romeo Mosebo
"I believe that no freelancer must go to bed hungry while having a major company receive income."
Henrik Paavo Nilsson
"Too many employers think it is ok for freelancers to starve and completely undervalue the value we freelancers can provide for their brands."
Victoria Sangwine-Gould
"No-one ever asks an accountant to work for free! I have turned down unpaid work before now."
Louise Nolan
"I want to make a stand in the arts for equality of opportunity for all based on merit not financial ability. I've experienced being excluded from opportunities because I couldn't afford to work for free. I don't want to perpetuate this discriminatory practice. This lack of diversity harms society and leaves the sector to those who can afford to participate in it and excludes the brightest talent who don't have the financial means to intern for free or live in major centres for work (London)"
Amy W
"Promotion doesn't pay the bills"
Miko Brown/Miko
"I have always objected to clients assuming we'll work for nothing and creatives who do just that (just to get their work published!!!). I have been freelance 40 odd years and still going strong. That is 40 years and more of creative experience, knowledge and expertise. That's what my clients are paying for not the day, whatever, it takes to create an image from a blank sheet of paper to a WOW! First time I've heard of this organisation! More power to your elbow."
Marcos Maldonado
"As a freelance translator, I feel we should educate the market on the fact that promotion is no currency. Our sweat and tears make us worthy of fair compensation."
Cheryl Hardacre
"I'm a writer who is sick of writers being asked to do their work for free because, you know, "everyone can write". Yeah? No problem, if it's that simple, write it yourself. :)"
Julia Überbacher
"I am an Information Designer and I want people to be aware of this problem so many other designers have!"
Patricia B. Lavoie
"As a freelance, I need to get paid for what I do ; if I don't I won't be able to do it anymore."
Faye
"I've been taken advantage of in the past by not being paid for a lot of work put in"
Alexandra Boanta
"Because our work matters a LOT and we should not let companies take advantage of our skills for free!"
Dan Clifton
"I need to be paid for the work I do."
Izamar Rosas Vazquez
"Slow down on freelancing a lot! Doesn't pay the bills."
Mark Tew
"To support freelancers being undervalued/underpaid and to educate and inform clients of the value of their work and craft."
Isabelle Hogeby
"I am not willing to give the best I can for nothing. I deserve to be paid for the quality work that I do."
Nuno Miguel Ferreira Monteiro
"I'm signing this petition as credits don't buy me food or pay my rent. I have plenty of experience in the creative industries but still people think it is right to continue to exploit others."
Miroslav Bučko
"Exposure doesn't pay my bill or put food on the table. There is no free lunch in this world."
Jolade
"I can't live off exposure, good causes, charity budgets, "maybe next time's", trial runs, experience runs, etc."
James Owusu
"If you want it for free, do it yourself. Us creatives have needs too and free work just doesn't cut it. We're not asking for your benevolence, only fair pay for our works."
Kat Janes
"I'm an Editor who has been exploited many times over my career on a "free" work basis."
Carol Sowden
"I have worked all my life to get to where I am; a practicing artist and deserve to be paid for my time given!"
Iain Goodyear
"Because no-one should work for free."
Thomas Mareschal
"Mon travail n'est pas un jeu"
Alexander Whitcombe
"I'm a freelance camera operator. It's tough out there, freelancers should support and help each other. Contracts should be won on merit, not undercutting."
Pedro Alvarez
"To don't shoot ourselves on the foot"
Julia Miller
"As a musician, I am frequently asked to perform for less than the market value which is not fair at all."
Jessica Sutton
"I am tired of my skills being undervalued"
Nicole. A. Tolszczuk-Lee
"I support all freelancers and art educators that's work is always taken for granted; and often times exploited by communities or school administration."
Elia Fofi
"No more free work!"
Victor Draven Lee
"I am a photographer and i vocalise this having met my fairshare of such undermining companies or groups asking to work for free"
Arturo Las Pinas Jr
"I used to be an engineer now transitioning to full time photography. As an engineer, the value of your pay is a reflection of the education you invested in, the work experience you gained and most importantly, your professionalism. I am no different in my creative craft of photography which I treat in the same manner, if not moreso. If you are good at what you do, dedicated, profession, always improving and delivery quality service, then it's time to be paid respectively for the work we put in!"
Bruno Ferreira
"I'm a portuguese Composer and Producer and the "work for free/ to create portfolio" is a well known term."
Jakob Muxoll
"I'm a part time photographer transitioning to become full time, and I struggle with the exact same batch of problems regarding expectations of free work. This is a subject very close to my heart, and something I would advocate every single day. Thank you for this! We're all in need for this."
Gina Zammit
""I don't work for free, I am barely giving a f*** away". Killer Mike"
Emma Lamp
"I believe I and those in my industry have all been exploited at some point and it should stop asap"
Osama Abdalgayed
"As a small production house's manager I feel like it's enough, We have rent, salaries and bla bla so your free work will just let us close the company and work in any other business."
Natalie Toms (Tales of Underwood)
"Exposure as a commodity isn't acceptable in any other industry so why should we accept it here? #NoFreeWork"
Natalia RM
"I love my work and I need you respect it"
Naomi power
"The utilities company doesnt accept the currency of "exposure""
Louiseanne Wong
"I am a choreographer, movement artist, dancer, instructor and parkour coach. I believe that all artistic and creative talents should be respected with paid work like any other profession."
Andy Lowe
"Free work ≠ good work"
Emma Johnson
"Every time someone works for free, it undercuts, undervalues, or puts someone else in our industry out of work - and helps to embed the falsehood that creatives will work purely "for the love of it". We have to eat. This has to stop."
Julien Kilchenmann
"I'm musician and know the problem"
Facundo Grassano
"No more free work."
Alwyn
"if ever thou does owt fer nowt – allus do it fer thissen. Yorkshire."
Jerri
"You can't be creative if you can't afford to live."
Jerri jarmeh
"jjarmehcreate@gmail.com"
Alexandra Kruse
"I am not not willing to give the best I can for half the money."
Leah Wise
"I work hard to produce quality, professional content and I deserve to be compensated fairly for it."
Claire Ward
"I'm a well qualified, well experienced professional artist"
Francois Boutemy
"I believe industry professionals should be paid for their work to survive and thrive in their chosen career. Constant offers to create unpaid work for portfolio purposes only devalues the work of the individual. When you're at the supermarket checkout, you never haggle the price on the bill! Why does this happen with freelancers?"
WebEmployed
"We support Freelancer's rights to paid work."
Frame Perfect Management
"This is our job not a hobby and we should be paid for our skills, creativity , time and effort."
Adam Edgell-Bush
"We are a startup that benefits from using freelancers. We want them to be able to live and thrive providing their invaluable services to companies such as ours."
Kelly Gilmour-Grassam
"We believe that all work has a value!"
Coconut
"Everyone should have the same opportunity to follow their passion and prove their value. Therefore everyone should be paid a fair amount for work they do, with no exceptions."
karim Diomande
"I want to support #NOFREEWORK and for freelancers to have the opportuinty to earn a living"
Maik Jansen
"Any one working, should get a fair payment for that."
Zoe Green
"If we work for free we devalue the creative industry for everyone"
The Quick Brown Fox Video Production
"By posting or applying to unpaid work, people undermine seasoned professionals and possibly cause them to lose out on paid work."
Merité Media
"Because we are expected to provide expert quality services so should always be adequately compensated."
Mulroys
"We're fully behind the #NOFREEWORK campaign and support all the freelancers who work for us. Keep up the right work."
Katy Pollard
"I believe strongly in this campaign"
Jonathan Brigden
"We are an agency who sometimes have to do pitches to win work. We always pay our staff and freelancers though."
Christina Inge
"Freelancer for many years. Freelance isn't free"
Felicia Lannan
"All arts and artists deserve an income."
Mark Settle
"Working in the DJ industry, there's a running joke about doing gigs for exposure, and this extends into other sectors. My work has value, and I won't do it for less than I feel it's worth, nor will I ask anyone else to do it for exposure either."
Marinet Quinones
"I believe that all work should be paid, and on time. I hace clients who take a very long time to pay, months after the work is done."
James Shaw
"I have been a freelance writer and filmmaker for seven years. The amount of filming I have done for free would have bought me a house by now and it's very frustrating and caused financial problems, which I'm still unable to resolve. I set up my company two years ago and I'm still being contracted for a fraction of the cost. I also appreciate you starting this movement. Thank you ✌️"
Katia Herault
"We need to stand for social justice"
Susannah Marriott
"I've worked for free too often. I want to stop my kids doing it."
Arwyn Bailey.
"I am tired of being asked to shoot for TFP. I believe that this work should be outlawed, totally, and that a professional qualification, and ongoing CPD should be required of ALL creatives, just as a gas fitter or electrician is required; and furrhermore, ALL creatives should be required to carry requisite public liability and other relevant insurancez by law. Until this happens, creativex will continue to be exploited."
Dawn Baird
"Because freelancers and small business owners are getting asked to work for free and it has to stop!"
Kieron Jansch
"Unpaid positions, exploiting new entrants to the creative industries, undermine the value of those industries for everyone."
Karen V
"No free work!!!"
Drew Aspinwall
"The whole sector loses when people offer to work for nothing, nothing usually come so if it and only the wealthy can afford to do unpaid internships - if no-one is getting paid that is different - otherwise it is a race to the bottom."
Humanproduce
"It's exploitation"
Ángela Manfredi
"It's exploitation"
Tarmo Tulit
"To support the creative industries and my livelihood."
UGLYBENNYCO
"To support #NoFreeWork as I am a graphic Designer beginning my own design business venture"
Sue Bowerman
"Because things need to change!!!!!"
Gorilla Accounting
"We provide accountancy services for Freelancers and Contractors. As a result, we work with some really innovative, creative companies - no pay should mean no work."
Peter Carroll
"Working for free serves to undermine long term career progression and ultimately devalues a skill base. It undermines diversity of age and social class and restricts opportunities for talent to shine."
Novel Beings Ltd
"We believe that every freelancer needs to be paid for their expertise and services. While we are an intermediary business, we pledge not to put forward any unpaid jobs were everyone involved isn't getting out of it what is due to them."
TechTribe.UK
"We all are freelancer who have 'volunteering' to work together to build a better future for the young people and as a group and a platform we commit to not exploiting individuals for commercial gain or misusing intellectual property of freelancers and we actively support #NOFREEWORK. Will add this as part of policy framework for our work we do and actively promote it to make it clear on where we all stand."
Tommy & Lottie
"Everyone is worth something."
Katie Carr
"Everyone is worth something."
Frank Bennett
"The number of people working as freelance/self-employed is growing and that suits individuals in finding a work/life balance and employers seeking flexibility. If this is to benefit both for the development of a fluid labour market that is the becoming the bedrock of economic development and needs of society then unpaid work is not part of the deal. I support #NOFREEWORK."
FIU (www.fiubcn.com)
"We believe, strive, and fight for this campaign. Creative work should never be free, and we will keep creating conscience around the globe. Thank you."
FP Comms
"We supports everyone earning a living, including Freelancers. Love this campaign and I heard about this campiagn via East London Radio!"
Seventa Image Academy
"We support the #NoFreeWork initiative to ensure that our industry not only survives but thrives in the Freelance Workspace."