SIGN THE PETITION TO SAY NO TO UNPAID WORK.

I WILL NOT TO POST OR APPLY TO UNPAID WORK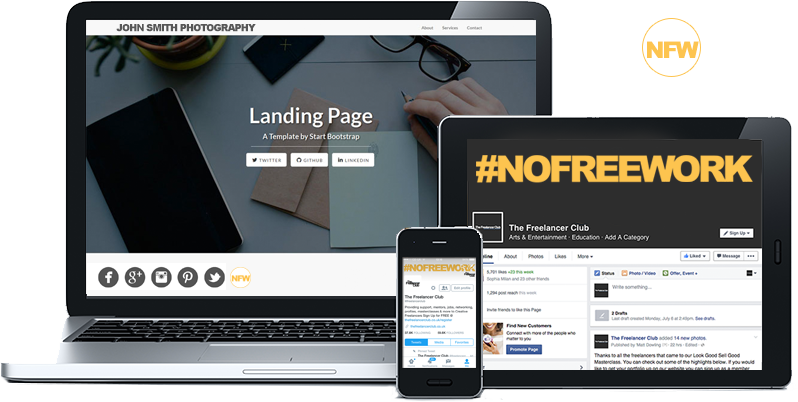 INCLUDED IN THE NOFREEWORK CERTIFICATE PACK

WEBSITE ICONS

THE CODE OF CONDUCT

SOCIAL MEDIA BANNERS
BY ADDING THE ICON TO YOUR SITE OR BANNER TO YOUR SOCIAL MEDIA, YOU ARE JOINING 100s OF BRANDS AND EMPLOYERS WHO BACK THE #NOFREEWORK CAMPAIGN. THIS ICON REPRESENTS A GROUP OF FREELANCERS, BRANDS AND EMPLOYERS WHO BELIEVE IN FAIR PAY FOR SERVICES.
CODE OF CONDUCT
Definition: Unpaid work
Unpaid work is any scenario where a business exploits an individual for commercial gain by not paying for labour or services that have been provided by that individual.
Unpaid work can have a damaging effect on the relationship between freelancers and their clients. It creates an environment where freelancers suspect their clients of trying to take advantage of them, rather than a positive working relationship.
NAMES WHO'VE SIGNED
Yvonne Shearer
"People need to value each others work. We need to stop undercutting one anther & people need to start offering payment instead of using the word collaboration/tfp in the wrong context."
Morgan Ellis Williams
"It's unfair of the industry to expect paid work from freelancers when they spend so much on equipment and education in order to do what they love."
Jessica Hay
"People take advantage of my skills and abilities that I have gained through years of hard work."
Rathapon Chuenkerdlarp
"The basic human factor is food. When you're hungry, you pay for food, but why don't you pay anyone who works for you ... they have to eat as well."
Will Ireland
"If you provide a service for someone, they should pay you. It's pretty straightforward. Also, photography gear is expensive."
Kira Matthews
"Living in London it is ridiculous that companies can expect you to work for free... how doesn't one support themselves??"
Darren Brade
"Constantly asked to do commercial work for free or see "adverts" for that. At best people want to to pay below minimal wage or just expenses yet make money on my images."
Darren Brade
"Constantly asked to do commercial work for free or see "adverts" for that. At best people want to to pay below minimal wage or just expenses yet make money on my images."
Tamara Tott
"Iam a freelance makeup and hair artist and this subject is very important to me."
Amber Ryder
"People should be paid for their time, skills and talent."
Maryann Morris
"I did not spend years on my education, research and practice to work for free."
Nadia
"Working for free has put me in debt, for doing something I love."
Jamie Roberts
"I feel it's time to reverse the finanacial issues of the creative industry."
Gemma Chadwick
"No one should work for free, end of story!"
Sunkiran Boyal
"Working for free is not business, it is charity"
Paul bonsu
"I don't believe in freework"
Ryan Addy
"Too many people do not value the art photography, its not easy taking photos alot of time and effort is put in !"
Ian Johnstone
"If THEY are getting paid for the work I want to get paid for the work!! No ifs no buts and NO EMPTY PROMISES!"
Ksenia Haud
"Im very passion with what Im doing. I need to feed my family and pay my bills also."
Chirag Wakaskar
"All that is 'Work' must be remunerated."
Giada Frassetto
"It's not only about "pushing one button"."
lauran-marie
"i have had people take advantage of me when i have done work for free"
Jim goggin
"Having recently filed my tax return, I realised how many invoices I had that were never paid. I don't mind publicly stating that the figure was more than £6000. As a photographer with a small family that lost of earnings has affected the quality of our life."
Kiashiatyson
"We work hard not to get paid ."
Maria Chiara Fagioli
"To survive is a right for anyone. When you ask for a coffee or tea, you simply pay. The same for artworks and creative skills. We are worth less than dirty water or a penny. Please respect us. Thank you!"
Miya Kyera Kyndale Jimenez
"Taking time out of my day to do something I am not paid for that can -usually requires hours and my energy , Is not worth it."
Deanna Gladys Bisnar
"Some of us worked hard to get a degree on Make Up Artistry and spend thousands of pounds to build our kit. We don't just do this job for fun."
Matthew Willcocks
"Creative industry exploitation must be ended"
Adam Tiernan Thomas
"I've done enough free work and only in about 5% of cases is it worth it!"
Jeehoon Choi
"We work as hard as everyone"
Joao Leal
"Freelance can be quite dificult when clients think you are not worth your time and hard work."
Micky Channon
"Working - actively engaged in paid work, Employed - having your services engaged for or having a job especially one that pays wages or a salary. #Freework - "robots can be on the job day and night""
Bonnie Newman
"Working for free perpetuates slavery and human trafficking"
Gillian Jones
"Sick of low pay and slow payers"
Tomasz Preficz
"Because I know value of my work"
Jamie hawkins
"It's unfair to put so many people out of work after years of hard work to be told their job should be done for free"
Samanta Boni
"If you work, you need to get paid for it. Otherwise it's volunteering..."
Kiran Patel
"Unpaid work i.e. zero hour contracts is exploitation when misused and my work is not worth being unpaid for. Everyone is worth a value as well as some raised an important point that free work does not pay employers bills so do they think my bills will be paid with free/unpaid work."
Dario Banfi
""When something is free (services online, for example) the product is you", marketing experts say. I add: "Also unpaid work has a cost: your life"."
Foqiya Inayat
"Having Freelanced for years - I have been asked to do more free work than paid work for those who profitted from my work and I realised I did not gain what I had been promised."
EMILLIE FULLER
"because i am sick of being took doing a free job with be good for my career/portfolio!!"
Ben Smith
"Because free work doesn't pay the bills..."
Drazen Priganica
"Everybody should get paid for the work they are hired to do."
Rudesh Mehta
"I too have to feed my Family and have roof over their head just like you."
Rikesh Mistry
"I thoroughly enjoy creating and designing for clients and companies, by doing so shouldn't I receive a reward for my hard work and dedication to briefs and projects assigned? #NoFreeWork"
Vivienne Knott
"I am a freelancer and know how uncertain it can feel to commit to a job when you're not sure when you'll be paid."
Nadia Malik
"Worked for free for too long"
Clare Marshall
"everyone should get paid for their work"
Raufu Mensah
"Freelance is not free"
Reenie
"Freelancers regularly get taken advantage of and our expected to work for free. It is not right or fair. We have living expenses and business costs to cover."
Luca Stifani
"I need to get paid for my working time as little or great that is. London is a hard place to work, and not getting paid is a real NO WAY"
Lydia White
"As a stylist in this fashion industry, many companies exploit people in exchange for their hard work and time. When I first started out freelancing I initially worked unpaid for experience but when people are willing to book you for your creative talents and work ethic and have no intention of paying you even though you work for long hours and produce the most amazing work I feel this treatment is unacceptable and shouldnt be tolerated. No one in any industry should have to work unpaid"
Sophie Reeve
"I have a right to be paid for my work."
Amber Nest
"I deserve to be paid for work that I do."
Jose Antonio Rubido
"Cause work should be paid for"
Shiene Mann beauty
"My work needs to be recognised for its creativity and not to be taken advantage of."
Louise Allen
"By agreeing to work for free, we undermine our personal value as well as the value of our industry."
Vicky evans
"I have bills to pay and a child to feed"
Nina Rosca
"Time is money!"
Sophie Hannah Richardson
"As a full time blogger with a mortgage, I have bills to pay. At first I didn't mind the free work as it was great for exposure. But now I've established myself and I can guarantee brands exposure and generate sales for them, why shouldn't they pay me to produce content for them?"
Tania Neves
"Tired of "work for free" proposals..."
Niki Black
"I took 5 yrs to full train as a hairstylist and 1 to train as a make up artist. I am very experienced in my field yet I am constantly asked to do free work or have my fee reduced at will as suddenly there is no budget. This reduction is only done on the hair and make up team as it is seen as a lesser part of the job. I have a family to support this is how I live. If budgets get reduced, no company making commerce from the job should ever ask an artist to work for free."
David Cardelús
"Things are getting really worse when people asking you to work for free are not an exception."
Chris Davies
"Too many companies are keen to exploit the talents and ambitions of creative people. Therefore, working for free undermines the whole creative industry and everyone involved with it."
Angela Dorn
"I'm a blogger - so I know how hard it is sometimes to convince brands that my work is actually WORK, and I want to get paid for it."
James Polley
"Completing a brief as required and ever receiving a single penny of the hours and hours of work. Plus the client not paying in full and haggling on price. We should be paid as professionals #nofreework #planet45"
Katie Saurin
"Skills should be rightly paid for, along with kit education experience etc... You wouldn't go to the shop and expect what you buy for it to be free"
Audrey O Connor
"Supporting all qualified freelancers"
Sarah Naylor
"I've worked for free with the promise of exposure and more work to no avail. I've two kids I pay my taxes all work should be paid for. I've spent 16 hours on shoots and not even paid expenses it's shocking. One magazine even put in the wrong name for a shoot I did. #nofreework"
Sarah phillips
"I support the movement"
Jennifer Cassidy
"We are professionals with qualifications and should be paid appropriately."
Deirdre Lynch
"I'm a freelance professional make up artist with years of experience. I invest hundreds yearly, in my kit and education and deserve to be paid for any and all jobs that I do."
Anna J
"There us a high value to what I do. I am highly trained and experienced. I have a lot to give, but I need to eat, live and also to fund further training. I refuse to be taken for granted, or to be taken advantage of."
Natasha Murray
"I am a freelance makeup artist"
Lesley Walker
"."
Farzana Rahman
"Time is money, I've paid thousands out for my kit, branding and business activity, the least I deserve is to be paid for my work."
Ailie Wallace
"I deserve to be paid for my work."
Siobhan Katherine
"I may enjoy what I do - but we all have bills to pay and lives to live - what we do isn't all glamourous - we deserve to get paid!"
Ales Tomis
"Any work has to be paid."
Angela
"Tired of working for free. Still don't know how the authorities allow this aberration"
Sharad Patel
"I feel it's ruining our industry and it's terrible that people are allowed to get away with not paying creative individuals for their hard work. It's time we make a stand!"
Cornelious Harnett
"I value my work and want to support us small independent freelancers who need to earn an honest, fair and respectful living without being devalued and exploited."
Mahmudur Rahman
"I support the movement "NOFREEWORK""
Cecily Grange
"Our work is valuable."
James Marchiori
"Nobody likes working for glory"
Joanna Porter
"I need to pay the bills."
Kevin Ross Manning CSci CPhys MInstP
"Work is work and should be paid for."
Nick Feldman
"I'm a freelancer"
Rowan Williams
"Labour is labour. Regardless of the marketplace. Labour should be remunerated regardless."
Emma Reynolds
"I believe that as a poet the work I produce is something that is personal and has come straight from my heart. The second I let someone exploit my emotive artwork for their own personal gain I let a part of myself be humiliated. I will not allow artists to be exploited. Full stop."
Elena Valeria Nedelcu
"Support freelancers against exploitation"
Nick Walton
"Free work should not be an accepted norm."
Claire Barrance
"To stop freelancers being exploited"
Rory Mel
"I feel that the concept of free degrades the perception of the individuals creative worth, thereby belittling the value of experience and knowledge."
James René
"If you are good at something... never do it for free! ;)"
Don Noble
"Stop devaluing our industry."
Dave Forminton
"I've had to take a part time job to support my photography work after 12 years of successful full time freelancing. The industry has changed and jobs are definitely not paying as well as they used to for a number of reasons. New freelance photographers don't seem to value their time anymore and are willing to give their services for experience or as a way into the industry. I'm surious to know where they are in 6 months time."
Louise Allen
"Free work undermines the value of the whole industry"
Victory Pearl Maburutse
"Common sense"
Lai-Si Lassalle
"Because Freelancers should get paid and have the chance to truly contribute to Society and the Economy."
TechTribe.UK
"We all are freelancer who have 'volunteering' to work together to build a better future for the young people and as a group and a platform we commit to not exploiting individuals for commercial gain or misusing intellectual property of freelancers and we actively support #NOFREEWORK. Will add this as part of policy framework for our work we do and actively promote it to make it clear on where we all stand."
Tommy & Lottie
"Everyone is worth something."
Katie Carr
"Everyone is worth something."
Frank Bennett
"The number of people working as freelance/self-employed is growing and that suits individuals in finding a work/life balance and employers seeking flexibility. If this is to benefit both for the development of a fluid labour market that is the becoming the bedrock of economic development and needs of society then unpaid work is not part of the deal. I support #NOFREEWORK."
FIU (www.fiubcn.com)
"We believe, strive, and fight for this campaign. Creative work should never be free, and we will keep creating conscience around the globe. Thank you."
FP Comms
"We supports everyone earning a living, including Freelancers. Love this campaign and I heard about this campiagn via East London Radio!"
Seventa Image Academy
"We support the #NoFreeWork initiative to ensure that our industry not only survives but thrives in the Freelance Workspace."