SIGN THE PETITION TO SAY NO TO UNPAID WORK.

I WILL NOT POST OR APPLY TO UNPAID WORK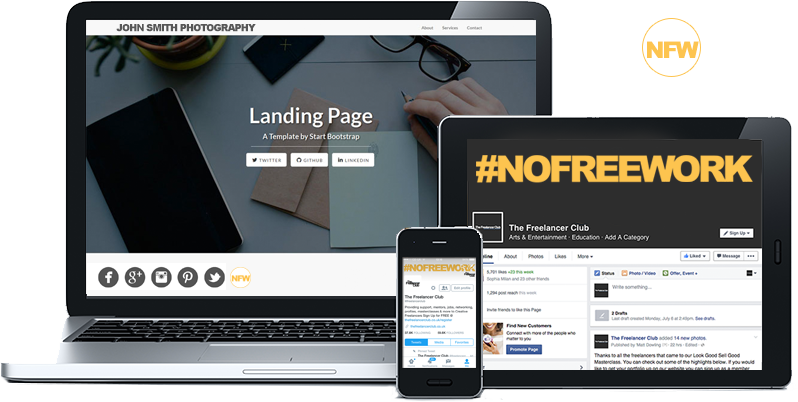 INCLUDED IN THE NOFREEWORK CERTIFICATE PACK

WEBSITE ICONS

THE CODE OF CONDUCT

SOCIAL MEDIA BANNERS
BY ADDING THE ICON TO YOUR SITE OR BANNER TO YOUR SOCIAL MEDIA, YOU ARE JOINING 100s OF BRANDS AND EMPLOYERS WHO BACK THE #NOFREEWORK CAMPAIGN. THIS ICON REPRESENTS A GROUP OF FREELANCERS, BRANDS AND EMPLOYERS WHO BELIEVE IN FAIR PAY FOR SERVICES.
CODE OF CONDUCT
Definition: Unpaid work
Unpaid work is any scenario where a business exploits an individual for commercial gain by not paying for labour or services that have been provided by that individual.
Unpaid work can have a damaging effect on the relationship between freelancers and their clients. It creates an environment where freelancers suspect their clients of trying to take advantage of them, rather than a positive working relationship. Unpaid work not only devalues the individual but impacts the creative industry resulting in a lack of diversity, a diluted talent pool and a poorer economy.
NAMES WHO'VE SIGNED
Chloe
"No free work we need pay!"
S Ali
"I've been asked to work for free all the time in TV during each of my work experiences and have since moved out of working in TV as everyone else gets paid work except me in that sector.I do other paid work now.TV's had it's day."
Katie Ince
"I have been in the industry for 17yrs now. I never worked for free, as I couldn't afford to so never applied for non paid work. Why should our industry be the only one where we're expected to work for nothing for years, using our own products that are expensive and put wear and tear on our cars. If people carry on doing these jobs, things will never improve, we have to stick together to keep our value. It's what I call modern slave Labour!"
Siana-Rose Crawford
"I want to make a living through my writing"
Andrew Shelley
"Freelancer looking for paid work"
Sophie Burch
"I'm a graduate and freelancer who repeatedly is being asked to work for free or very little"
Elkie Yates
"My daughters birthday tomorrow and I can't even get her a cake. Fed up of not being paid and constantly being left out of pocket."
Kate Reilly James
"Equality, fairness and for my students to know their worth"
Conor Irvine
"I'm constantly undercut and left fearful that companies or clients will go with someone that is free. This doesn't just affect me but slowly kills the industry"
Mirna
"I want work, I'm hairstylist."
Mark Boulton
"Photographer"
Helen Miles
"I spend lots of money replacing kit as a MUA and bodypainter I use on free events etc. sometimes a bodypaint has cost me £400 in total to make costume elements , paints and prosthetics and I may or may not get a usable image for my portfolio. Exposure is nothing as you do not get clients or bookings from most of these events."
Helen Miles
"I spend lots of money replacing kit as a MUA and bodypainter I use on free events etc. sometimes a bodypaint has cost me £400 in total to make costume elements , paints and prosthetics and I may or may not get a usable image for my portfolio. Exposure is nothing as you do not get clients or bokkings from most of these events."
Jonnie Dean Peace
"I'm well aware that this is an industry wide issue, it needs to change."
Tendai Pottinger
"Everyone should be paid for their work and being in the creative industry I see too many instances where we are expected to work for free."
Khandiz J Towill
"I fully support and promote that we need to be paid for our services"
yoiwan yvonne kong
"young creatives need to be paid"
Olivia-Ann Edwards
"I'm good enough to get paid"
Milly McPhee
"Promoters have no clue and harass us when we work for free"
pavel gonin
"I still do not understand why big companies and others in general do not want to pay us! We are not a slaves...!!! We will not pay our bills with our smiles.... But these companies or magazines, are paid very well after finishing their advertising campaign with free hairdressers, make-up artists, models etc.... JUST DISGUSTING!!! #NOFREEWORK"
Hannah Copeland
"I am getting sick of big companies offering free work for "exposure" and more so, sick of the freelancers accepting it and damaging this industry!"
Celia Reid
"Putting in my own money, time, and effort, I'd appreciate the same amount of appreciation back."
Em Burfitt
"I'm tired of receiving less than I'm worth, if anything at all"
Haile Naphtali Blackwood
"Our equipment costs money, our time costs money, we have spent time perfecting our craft, no matter who you are or the status of your company or how much you believe us working for you would benefit us, at least pay something."
Charlotte Olsson
"NO TO UNPAID WORK!"
Stefan Kudev
"Found this in a research paper, fully support the cause"
Gabriel Adeyemi (PIXELS)
"My knowledge was not acquired for free and my skills were not developed for free either..wanting free services from me, services that will be of benefit to you is exploitation and disregard for my work/art and upkeep. #NOFREEwork #IHaveBillsToPayToo"
Brett Andre
"Not sure who is to blame, the companies who ask or the freelancers who are willing to. Either way I will not partake, I am a skilled professional and value myself. DO NOT WORK FOR FREE, EVER!!!"
Silvana T. Delgado
"I'm also fighting this battle."
Tyrese Franklin
"I'm not a charity"
Camelia Kangonda
"Because I enjoy doing modelling"
Lesley Jolly
"It's downright wrong and exploitative."
Laura
"no more unpaid work #iamnotcharity"
Jeffrey Lagden
"I want to earn not starve. Lets be honest we freelancers get exploited on the regular because our work is not valued by companies or clients who need it. They are not willing to pay for the long hours and skill put into the work we create"
Michael Keane
"so many! if we all agree to stop working for free we'll push the value of our industry up and stop people being exploited and paid for with "exposure""
Samantha Covill
"No one with a skill/qualification should be expected to work for free!!"
Roman Spilcak
"No such thing as free work"
Renael Dixon
"Constantly campaigning for artists and creatives to be reimbursed for the services they supply."
Alison Oswald
"To offer the opportunity I have of using a top 5 brand product within there makeup artist business and have a product that they can earn an extra income from"
Natalia Skotarczak
"I'm a female Freelancer HMUA and I've been asked to work for free way too many times. I think #nofreework is a great idea and I'd love to support it!"
Trisha Gohill
"I do amazing work which people are happy with for free."
Deanna Evenbeck
"Freelance writer tired of being expected to write for free to earn "exposure""
Fraser Stephen
"We need to raise awareness of the difficulties faced by freelancers. The UK government must act and introduce legislation to protect freelancers and companies."
Aaron Sehmar
"Freelancers should be paid for the work they do. Everything has a price and exposure is not going to pay bills and equipment costs. Companies are not going to give out free services/stock at a loss to them, so why should we?"
lauren thwaites
"because constantly being asked to spend my time for free to make money for someone else"
Anil Amrit
"Even after 20 years as a designer I still get the odd one who blatantly takes the p*** and refuses to pay regardless of what has been formerly agreed verbally and on paper. Unused concepts and change of client's direction on a project is not an acceptable excuse not to pay a person for their time."
Tania Naneva
"No free work"
Poppy Hardy
"Not been paid for freelance photography work myself"
Lewis White
"Exposure doesn't pay bills!"
Michael V Greenway
"I regularly get asked to to Free unpaid photography work & also had work copied and then put up for sale with out my permission. I have had an image this week being put up for sale by Motoring-man.com on Ebay.co.uk which is an infringement of my Interlectual Property Right & a copyright infringement."
Erisen Ali
"To support the cause and creative industry!"
Aqibul ali
"A lot of advertised jobs where they expect you to film and edit without pay"
Anna Chattoe
"I'm a professional hairdresser and absolutely love what I do. It has taken a lot of time and money to invest in my course, my kit and experience as well as my portfolio. I have previously worked for free and convinced myself it was worth it, I was promised so much and to my 'surprise' nothing came out of those. Yes I did get some good images, but have made HUGE losses covering my expenses and my kit (whilst others got paid and a good artist to help!) I feel unpaid work is disrespect to an ar"
Helen Proudfoot
"If you can't do the work yourself, then you should recognise someone who can."
Alex Ford
"As an actor, the expectation to constantly work for free for material is unacceptable and frankly impossible. The circle is too vicious- respect the artist, their hard work and pay fairly!"
Sarah Juckes
"You can't live on 'promotion' and 'visibility'."
Niamh Hicks
"Art needs to be valued more in society."
Begona.Alegria
""I believe that people who perform well and provide quality services should get the payment they deserve"
Tomas Pelaez
"Fuck you pay me"
Danika Peji
"I believe that people who perform well and provide quality services should get the payment they deserve. #NOFREEWORK"
Annelise Keestra
"Our education, work, time, and thinking have value. Who says we can't get experience and an additional piece to our portfolio while also getting paid right for the quality and effort behind the work?"
Hayley Carr
"If you desire my skills, then my skills are desirable enough to be paid for."
Miranda Jean Walsh
"If no-one gets paid no-one can buy anything. Continuing down that road is not an option."
Muhammad Adib Zailan
"Passion is passion, but if passion doesn't support the efforts of oneself, it doesn't make sense doesn't it!"
Ryan Green
"isnt it obvious?"
Maxine crew
"No free work!!"
Jeph Bonsu
"Feel everybody should be compensated for their time and skills."
Ruth
"to say no to people asking for free work especially for us freelancers /small businesses"
Paul Bankole Iwala
"I want to eat."
Mike Zimmerman
"In 30+ years as a full-time photographer, I have NEVER worked for free, (outside of legitimate not-for-profit charitable organizations...) and never will!!!"
heather mcavoy
"Tired of being exploited for 'portfolio' work."
Dwayne Church
"I gotsa get paid 'cuz I gotsa pay 'da billz."
Tiffany O'Neall
""Exposure" doesn't pay the bills."
Michael Halbrook
"The creative fields are getting less and less pay for a "skilled" position."
Anisa Patel
"I am a freelancer and have encountered many problems associated with people thinking creatives can do work for next to nothing. It's time the world takes us seriously!"
Rik Aby
"To stop the exploitation of Freelancers everywhere"
Julia Bodie
"I have worked hard to build up Copy-proof, so why would I give my services for free?"
Andrew Greenstreet
"Being asked to work for free or to hand over copyright for free too often"
Jane Canaway
"Writing is my profession, not a hobby."
john rae
"i support"
Tom Hallett
"Free work is slave work."
Courtney Blundell
"Our time & expertise is worth more than "Free" Our kits cost alot to buy, travel to and from destinations cost alot, Why should we be out of pocket, No one else would go to work to lose money! #NOFREEWORK"
Sneha Singh
"I don't support working for free!"
Abhi Arumbakkam
"Had enough of being asked to work for free. No, no and no!"
Florrie Thomas
"I deserve to be paid for the work and effort I put in to my designs. Too many big companies take advantage of small businesses/designers."
Simona Vivian Zychova
"If we will not stop free work, there never will be value and happiness.!"
Alison Richards
"I'm a freelance designer and illustrator and I'm sick of it. If I was an accountant you'd pay me!"
Simon Handley
"My bills don't pay themselves!"
Samantha orton
"I have an outstanding invoice from January which I have chased several times being told I'll receive payment at the end of the week. The director since then has had several holidays and clearly disrespects my business having used the images online and in publications."
Bob Caddick
"Fed up of being expected to work free....."
Mark Hollis
"Fed up with being offered free work. I would say 40% of my work is free."
Kerstin rodgers
"Sick of piss takers"
Ashley Williams
"I believe in a fair days work, in return for a fair days pay"
Kaye McIntosh
"People deserve to be paid for their work"
Tim Horne
"I'm genuinely worried for my future and my family's future. As a photographer of over 10 years, the last 3 have forced me to lower my rates by more than half to compete with unpaid work. I'm not against competition, far from it, this drives me on however when photographers work for free they are taken away a paid job from the community. I fully support the freelancer club and their campaign."
PAUL BUTTERWORTH
"Experienced actor wishing to support fellow actors (especially young/inexperienced) actors from being asked to work for free on projects with a commercial value [I fully support actors making their own projects and collaborating on short films/sharing skills on each others projects]."
Gary
"I value my time, so should companies that approach me."
Jane Bellis
"I have been a hair and makeup artist for over 20 years and am STILL getting requests for unpaid work! I feel that those in the creative industries constantly have their work undervalued and it needs to stop."
Rachel Cohen
"Fed up with being expected to work for free"
Nick Gregan
"There is an errosion and devaluation of professional photographers skills and knowledge, digital cameras do a lot but... A skilled professional photographer has equipment, lights, knowledge and experience which are all gained through hard work not unpaid work."
Paul Dwyer
"I support students in gaining freelance work at the University of Westminster"
Angel Marinov
"The creative industry is like any other and free work should be allowed."
BECTU
"We've been campaigning against exploitation in the creative sectors for decades and supporting staff and freelancers who experience this. Well done on launching this campaign; we hope it will identify a will amongst policy makers to strengthen the law and the resources available for enforcement in support of new entrants in particular."
Dominique De-Light
"I believe all freelancers should be paid to ensure everyone has access to work opportunities. For a thriving creative economy it is important for diverse groups of people to have equal access to freelance work. At Creative Future we support under represented artists and writers, the #nofreework campaign reflects our vision of a more equal society and that's why we support this campaign."
Chaire Grace
"Too many Virtual Assistants undervalue themselves by either completing free work or offering their services for an unrealistically low rate. We want to sign up the to campaign in support of change to improve standards."
Elisha Miller
"I have undertaken many projects with the offer of 'Exposure' as payment, and not a single one of them has led to any further work or as claimed, worthwhile exposure. All it has done is taken time away from actively promoting my business and gaining paid work."
COSTCLEVER Ltd
"Hard working people deserve respect and financial reward as well!"
Model Code Agency
"Sick of being asked to work for free"
Hannah Martin
"I believe everyone deserves fair pay for good work. As a freelancer I would never work for free on the promise of some future hope of work or other recompense. And as a business owner, I employ skilled freelancers and pay their quoted rates without haggling."
Hotcourses
"The #NOFREEWORK campaign aligns perfectly with our beliefs that talent and hard work should be recognised and rewarded."
Francois Boutemy
"I believe industry professionals should be paid for their work to survive and thrive in their chosen career. Constant offers to create unpaid work for portfolio purposes only devalues the work of the individual. When you're at the supermarket checkout, you never haggle the price on the bill! Why does this happen with freelancers?"
WebEmployed
"We support Freelancer's rights to paid work."
Frame Perfect Management
"This is our job not a hobby and we should be paid for our skills, creativity , time and effort."
Adam Edgell-Bush
"We are a startup that benefits from using freelancers. We want them to be able to live and thrive providing their invaluable services to companies such as ours."
Kelly Gilmour-Grassam
"We believe that all work has a value!"
Coconut
"Everyone should have the same opportunity to follow their passion and prove their value. Therefore everyone should be paid a fair amount for work they do, with no exceptions."
karim Diomande
"I want to support #NOFREEWORK and for freelancers to have the opportuinty to earn a living"
Maik Jansen
"Any one working, should get a fair payment for that."
Zoe Green
"If we work for free we devalue the creative industry for everyone"
The Quick Brown Fox Video Production
"By posting or applying to unpaid work, people undermine seasoned professionals and possibly cause them to lose out on paid work."
Merité Media
"Because we are expected to provide expert quality services so should always be adequately compensated."
Mulroys
"We're fully behind the #NOFREEWORK campaign and support all the freelancers who work for us. Keep up the right work."
Katy Pollard
"I believe strongly in this campaign"
Jonathan Brigden
"We are an agency who sometimes have to do pitches to win work. We always pay our staff and freelancers though."
Christina Inge
"Freelancer for many years. Freelance isn't free"
Felicia Lannan
"All arts and artists deserve an income."
Mark Settle
"Working in the DJ industry, there's a running joke about doing gigs for exposure, and this extends into other sectors. My work has value, and I won't do it for less than I feel it's worth, nor will I ask anyone else to do it for exposure either."
Marinet Quinones
"I believe that all work should be paid, and on time. I hace clients who take a very long time to pay, months after the work is done."
James Shaw
"I have been a freelance writer and filmmaker for seven years. The amount of filming I have done for free would have bought me a house by now and it's very frustrating and caused financial problems, which I'm still unable to resolve. I set up my company two years ago and I'm still being contracted for a fraction of the cost. I also appreciate you starting this movement. Thank you ✌️"
Katia Herault
"We need to stand for social justice"
Susannah Marriott
"I've worked for free too often. I want to stop my kids doing it."
Arwyn Bailey.
"I am tired of being asked to shoot for TFP. I believe that this work should be outlawed, totally, and that a professional qualification, and ongoing CPD should be required of ALL creatives, just as a gas fitter or electrician is required; and furrhermore, ALL creatives should be required to carry requisite public liability and other relevant insurancez by law. Until this happens, creativex will continue to be exploited."
Dawn Baird
"Because freelancers and small business owners are getting asked to work for free and it has to stop!"
Kieron Jansch
"Unpaid positions, exploiting new entrants to the creative industries, undermine the value of those industries for everyone."
Karen V
"No free work!!!"
Drew Aspinwall
"The whole sector loses when people offer to work for nothing, nothing usually come so if it and only the wealthy can afford to do unpaid internships - if no-one is getting paid that is different - otherwise it is a race to the bottom."
Humanproduce
"It's exploitation"
Ángela Manfredi
"It's exploitation"
Tarmo Tulit
"To support the creative industries and my livelihood."
UGLYBENNYCO
"To support #NoFreeWork as I am a graphic Designer beginning my own design business venture"
Sue Bowerman
"Because things need to change!!!!!"
Gorilla Accounting
"We provide accountancy services for Freelancers and Contractors. As a result, we work with some really innovative, creative companies - no pay should mean no work."
Peter Carroll
"Working for free serves to undermine long term career progression and ultimately devalues a skill base. It undermines diversity of age and social class and restricts opportunities for talent to shine."
Novel Beings Ltd
"We believe that every freelancer needs to be paid for their expertise and services. While we are an intermediary business, we pledge not to put forward any unpaid jobs were everyone involved isn't getting out of it what is due to them."
TechTribe.UK
"We all are freelancer who have 'volunteering' to work together to build a better future for the young people and as a group and a platform we commit to not exploiting individuals for commercial gain or misusing intellectual property of freelancers and we actively support #NOFREEWORK. Will add this as part of policy framework for our work we do and actively promote it to make it clear on where we all stand."
Tommy & Lottie
"Everyone is worth something."
Katie Carr
"Everyone is worth something."
Frank Bennett
"The number of people working as freelance/self-employed is growing and that suits individuals in finding a work/life balance and employers seeking flexibility. If this is to benefit both for the development of a fluid labour market that is the becoming the bedrock of economic development and needs of society then unpaid work is not part of the deal. I support #NOFREEWORK."
FIU (www.fiubcn.com)
"We believe, strive, and fight for this campaign. Creative work should never be free, and we will keep creating conscience around the globe. Thank you."
FP Comms
"We supports everyone earning a living, including Freelancers. Love this campaign and I heard about this campiagn via East London Radio!"
Seventa Image Academy
"We support the #NoFreeWork initiative to ensure that our industry not only survives but thrives in the Freelance Workspace."