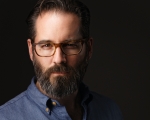 ---
---
MEMBERSHIP
Pro
---
MENTOR
£60.00
---
TEST SHOOTING
Yes
---
SKILL SET
PHOTOGRAPHY
HEADSHOT
PORTRAIT
EDITORIAL
---
ABOUT ME
I'm a London-based photographer with a centrally located studio space. I'm primarily interested in portrait, headshot and editorial work, with particular focus on performers and musicians. I love weddings, but I'd rather be a guest than be the photographer.
---
VIEWS 90753 LIKES 560
Scarlet Walker
02/02/2018
Ivan is able to produce amazing quality work while making sure his models are confident and comfortable. It was great working with you Ivan, can't wait for out next shoot!
---
Emily Denton
11/11/2017
I always look forward to working with Ivan! We have so much fun every time, as well as nailing each shoot we do together. Ivan is super professional, ideas are well executed, and he also makes the best coffee I've ever had.
---
Benazir
25/09/2017
Makeup Artist, Hair Stylist
"Ivan has such an amazing talent for capturing 'moments' which is very evident from the testshoot i did with him last week. I am very much impressed with Ivan's work ethics, and also his attitute towards amateurs in the industry like myself. I contacted him within few days of joining this website and to my surprise Ivan accepted to collaborate with me on few shoots, when lot of other people did not even care to reply me back. It indeed is my pleasure and an honor that someone so skilled and talented trusted in my abilities and gave me a chance to work with him. Ivan has this very nice lovely studio, where he makes everyone feel so welcomed and makes them feel at ease. I definitely cannot wait to work with him again. Thanks Ivan.
---
oliver jenne
14/08/2017
Ivan's is brilliant photographer and great to work with. He really puts you at ease on set and is very good at directing you through different shots/angles to help create excellent, natural looking images. He definitely gets the best out of his models and, as a result, I've been able to add plenty of great shots to my portfolio
---
Jade Woodhouse
09/08/2017
Worked with Ivan for the first time this evening. He is precise, professional and makes a wonderful cup of coffee. Clear with direction he is a pleasure to work with. Hopefully we work together again in the near future
---