Makeup Artist, Hair Stylist, Influencer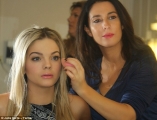 ---
---
MEMBERSHIP
Pro
---
SKILL SET
RED-CARPET
GROOMING
TUTORIALS
SFX
MAKEUP DESIGNER
CELEBRITY
BEAUTY
EDITORIAL
MUSIC
TELEVISION
FILM
MUSIC - VIDEO
JUNKET
WEDDING
FASHION
TV -COMMERCIAL
SESSION STYLIST
HD
HAIRDRESSER
MAKEUP
PHOTO SHOOT
---
ABOUT ME
LONDON HAIR /MAKEUP ARTIST/ GROOMER / MAKEUP DESIGNER SESSION STYLIST RED-CARPET, TV/FILM , MUSIC HD EXPERT , FASHION, EDITORIAL, BEAUTY/WEDDINGS. Contact- 07881080976 juliacarta@hotmail.co.uk Training Hairdressing/Cutter Vidal Sassoon Salon -London Kn ...
Read More
---
VIEWS 15902 LIKES 199
Theresa
14/05/2018
Julia was absolutely wonderful! I've never really bothered much with makeup, to a large extent because I'm not confident in applying it. During our lesson Julia walked me through all the important steps and showed me some great looks and how to achieve them. I've stocked up on all the basics I was missing and now doing a much better job. Thank you!
---
Annie Ly
02/02/2018
Julia was an absolute star! Great to work with - can't recommend her enough. Will love to work with her again!
---
bespokebrosfilms
12/10/2017
worked with julia on "princess of the forest" brilliant and very talented shes professional and surely one of the best in this field!
---
bespokebrosfilms
06/10/2017
one of the best and top artistic and talented persons in this industry a true professional
---
Jess Peters
28/09/2017
Hi all, I can't recommend Julia enough, she was super organised and very professional. The make up came across so well in the photographs. She was always on hand throughout the shoot to touch up hair and make up and she kept everyones spirits up! Jess x
---