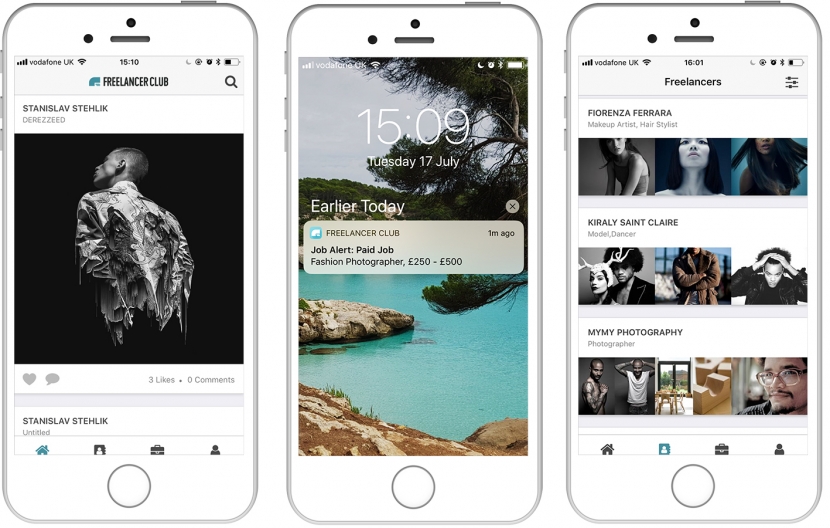 Here at the Freelancer Club, we understand that freelancers are constantly on the move. Whether traveling across town for a meeting, shooting on location, or attending an event, freelancers rarely have a minute for their business. In reality, freelancers miss a lot of opportunities when on a job or out of the 'office'. That's all about to change.
Two years in the making and inspired by our member's suggestions, the Freelancer Club App has been designed for busy freelancers who like to spend less time on the business side and more time focusing on the thing they love to do.
Never Miss An Opportunity
You'll receive instant job alerts and in-mail notifications directly to your phone. Easily apply for jobs and contact employers all whilst on the go.

Showcase Your Work
In need of inspiration? The Home tab is a curated feed of the best work by our talented members. Like and comment on their work to make contacts and upload your latest work all on your phone. Unlike the broad interests of your social media audiences, engagements on Freelancer Club App result in contacts, jobs, and collaborations. An App just for freelancers!
Do Everything On The Go
The app will provide a more streamlined approach when it comes to accessing the best jobs in the industry for our members as well as a platform for inspiration and connection. So, you can ensure that you won't miss out on any opportunities in your hectic, freelance lives. Whether you're traveling on a bus or taking a break during a shoot, the Freelancer Club App will make sure you make the most out of your downtime so that you can do more of what you love.
Think of the App as a freelance assistant in your pocket.
Connect, Collaborate, Create
Freelancing is as much about collaborating to produce new work for your portfolio as it is landing the job. The App makes it even easier to connect online and meet offline. Build your contacts by engaging with their work, sending them an in-mail or applying for test shoots.