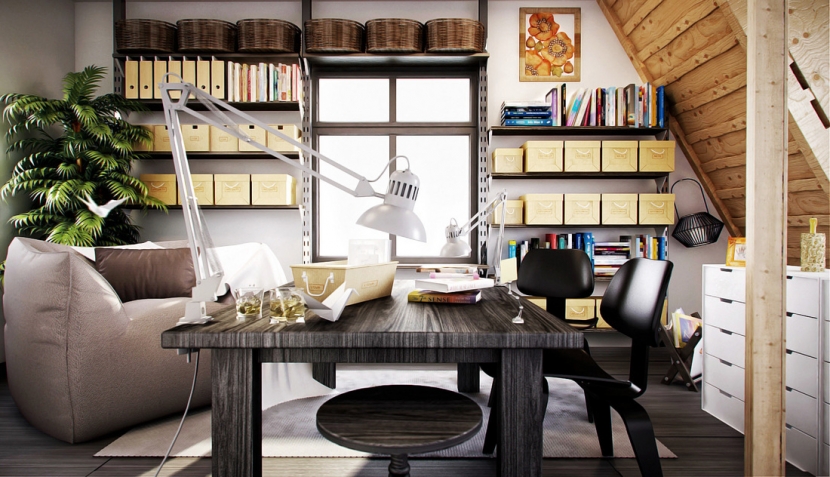 Affordable workspace in an ever-changing working landscape is becoming a key factor for all freelancers. Do creative freelancers providing a service need a workspace? London is pricing so many out but there are innovators accommodating the freelance sector and they're offering much more than just a desk.
In the last week, I've worked in the Côte Brasserie in St Christopher's Place, Soho House in Greek Street, Waterstones Piccadilly, and a Pain Quotidien in Tottenham Court Road. I've had a meeting in One Alfred Place, a very plush private London members club designed so 'business can be done in style' and I've spent a day working around a kitchen table in Notting Hill (more on that later).
Seeking out desk space and hot-desking it through central London is ruinously expensive, as the numerous scrumpled-up receipts in my handbags testify – particularly when it gets to wine o'clock and segueing smoothly from cups of tea to glasses of vino is all too tempting.
London freelancers now make up 17% of the capital's working population, and I'll bet that every Freelancer Club member reading this will have set up camp with their laptop in a Starbucks at some point.
Cafes are not the only alternative to sitting at home in pyjamas and fluffy slippers feeling the joie de vivre slowly drain from your soul. Affordable coworking space is now an option comparable to the expense of coffee-shop working.
So what are the affordable workspace options for the UK's growing army of freelance and self-employed professionals?
Cafes and restaurants
Pros: Lively, food and drink on tap, multiple central London locations, free wifi, power outlets (on occasion) and an understanding approach to making that cup of coffee last all morning.
Cons: Can be expensive and noisy, plus places designed for socialising don't make great work environments, let alone locations for shoots. Also, who watches your laptop while you go to the loo? Really only suitable for lone workers, although you could combine with lunch with a client.
Cost: Free, but we estimate a total daily spend of £17 (that's four drinks at £3 each, plus lunch for a fiver…)
Serviced offices
Pros: Companies like Regus offer a range of services, from desk space, drop-in business lounges to part-time offices, co-working spaces and even a business address to make your start-up look more professional. Check their listings for amenities like showers, break-out areas and private meeting rooms. Google 'serviced offices', 'desk space London' or 'co-working space' to find many other companies offering a similar service, and be aware that many commercial properties aren't able to offer super-fast broadband.
Cons: The conventional serviced office, with its corporate overtones, might not suit creative types, and you'll be working alongside others so privacy could be in short supply. Ideal for businesspeople on the go, less so for teams or professionals with clients they need to 'wow' or present to.
Cost: Central London Regus day offices start at £109.
Private members' clubs
Pros: For those who can afford them, private clubs offer a haven from London's hustle and bustle, and outside of busy times (lunchtime, the evening) you'll find a Mac-user at every table.
Cons: Expensive - ranging from £800 to thousands per year, private clubs don't fall under the 'affordable workspace' category - potentially cliquey, often noisy and not really suitable for formal meetings or presentations. Like cafés and restaurants, private clubs designed for socialising over cocktails aren't conducive to productivity. The most popular have a long waiting list.
Cost: At the upper end, all-house membership of the Soho House Group is £1,400 annually.
Women's networking clubs
Pros: The B. Hive network was founded by PR Lynne Franks to give women a space to 'meet, grow and do business'; it now has offices in London, Bristol and Manchester, decorated in tasteful, female-friendly style and complete with wifi, video conferencing, meeting rooms and business support. Part of the Regus group, membership also gives you access to their business lounges in the UK.
Cons: B.Hive members are discouraged from using the club as a regular office; it's really intended for networking and off-site meetings. Male visitors are welcome but membership is all-female – which could be a plus or minus, depending on your outlook.
Cost: Membership is £25 a month
Co-working hubs
Pros: London's burgeoning tech community of young startups has boosted demand for creative spaces where like-minded people can network, huddle and be inspired. They range from global organisations like Hubculture, with its own currency and 'Pavilion' workspaces, to Hanbury Street's quirky Barbarella-inspired Second Home. Check out Work.Life who focus on the importance of community, mindfulness, and a life outside of your work.
Cons: Most co-working hubs expect you to commit to membership, inconvenient if you need a variety of different types of workspaces around town which you can book flexibly. Potentially crowded, noisy and geek-dominated too.
Cost: Flex membership at Work Life costs just £5 per hour. Monthly costs from as little as £180 a month, up to £1,300 + VAT for annual membership of One Alfred Place.
The sharing economy's answer to affordable, flexible workspace?
Perhaps it was because none of the options listed above were quite right for me that I got involved with Vrumi, the start-up where I'm content editor. The (genius) idea behind Vrumi is to match the capital's empty daytime rooms with the Londoners who need them – as a one-off or on a regular basis – via our peer-to-peer, 'sharing economy' online marketplace.
The 'hosts' on our site are people who go out to work all day, leaving their Ladbroke Grove studio, Soho flat or Hackney kitchen-diner empty. The 'guests' are people who need a space – perhaps as a location for a photoshoot, to show their new collection to clients, to work on their novel, to start their micro business – or any one of a thousand other purposes.
My boss, the company's co-founder, set up Vrumi round his own kitchen table in West London (as much as I love the concept, working in your employer's house means slacking is not really an option…). So if you're in the creative industries, London, and looking for inspiring, beautiful, unusual, but still affordable workspaces – for an hour, a day, a week, or longer – come and see us. Rooms start at £18 a day.
This article was written by Laura Tennant, content editor at Vrumi. To find nicer workspaces for less, visit the website here.