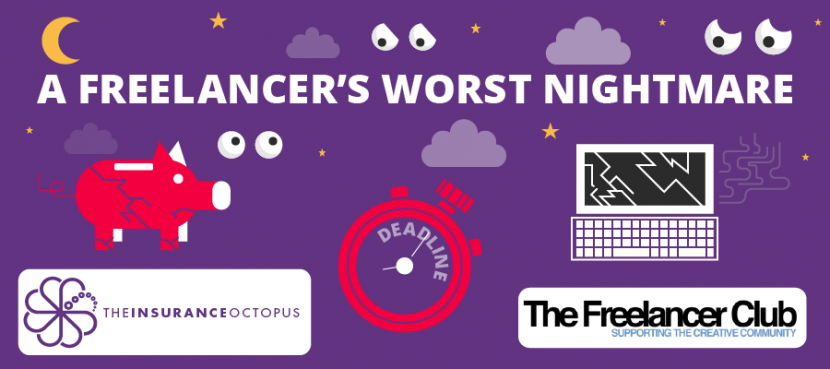 Running a freelance business comes with enough stresses as it is, so when the unexpected occurs that can affect the day to day running of your business, you need to be prepared. Whether you are a makeup artist, hair stylist, designer or photographer, you need your equipment to complete your job.

Imagine what your working day would look like if your entire make-up kit or Macbook Pro went missing? What would you do?
Of course, any work can be easily protected by backing up to a remote drive or the Cloud, but replacing a make-up kit or buying another laptop outright could put a severe dent in your finances.
Some of you will have been unlucky enough to experience a situation where you have agreed a project for a client and on completion they have refused to pay, despite you having executed all their requirements.
Did you know what options you had available?
If your client has withheld payment and in addition is looking to recover further costs due to alleged poor performance on a project or contract, the total costs could be a lot larger than the cost of original work carried out. The good news is, there are insurance policies available to help! These policies will not only help defend you in such circumstances but can recover the unpaid debt so you can continue trading.
When things get legal, that's when costs can skyrocket. Legal protection policies have many uses; from providing you with a Contract of Employment template for a new employee, to assistance in writing a formal letter chasing an outstanding invoice.
If a client also decided to write negative comments about you and your business across social media which started to damage your reputation, a professional indemnity policy may be able to assist by instructing PR specialists to help protect your brand.
Having the correct insurance in place for your equipment can prevent you from having to dip into your savings. Whether you have your equipment stolen or lose it by accident, insurers know you have to get your business back up and running quickly. Being organised and ensuring you report a claim to your insurer as soon as possible can see your money paid into your account in as little as two working days.
There are a number of insurance options available to assist and guide you through what can be a very stressful time.
The Insurance Octopus are offering one lucky winner £300 off their next insurance policy, all you need to do is click HERE and tell them your freelance nightmare!